Site Features
News Feed
Последние новости от Международной Фундации Содействия Рынку, материалы выступлений Станислава Соколенко и email-рассылки.
Cluster University
Эксклюзивные материалы и итоги исследований на тему региональных Кластеров от Фундации и других профильных експертов.
Social Network
Обменивайтесь опытом и найдите партнеров или поставщиков через открытые форумы и общедоступные доски обявлений.
About Us
Our portal connects members of Ukrainian regional clusters – entrepreneurs, academic community, local government officials.
It was created by Stanislav Sokolenko, the International Foundation for Market Assistance, and Sergei Sokolenko.
Clusters are communities of entrepreneurs who work closely with local authorities and universities in order to become more competitive and improve the economy of their regions.

The International Foundation for Market Assistance was founded in 1997 to promote the development of a market economy in Ukraine. Led by Stanislav Sokolenko, the director-general of JSC Ukrimpex and a member of the Ukrainian Academy of Sciences, the Foundation conducts studies of newly-emerging regional clusters in Ukraine and assists their organizers. The Foundation formed the Competitiveness Institute in 2002 to improve the economic conditions in Ukraine and compensate for the lack of a national strategy for combating the economic crisis. The Institute aids in development of national and regional competitiveness programs based on networked valued chains - clusters, strategic partnerships and alliances.

We strive to support Ukrainian entrepreneurs and remove the barriers for their communication and cooperation.
Our Team

Станислав Соколенко
Президент Международной фундации содействия рынку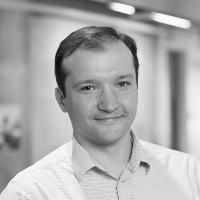 Сергей Соколенко
Главный продакт-менеджер, Amazon Web Services
News Feed

The Kharkiv region is launching new cluster initiatives and speeding up the formation of clusters. The international forum "Innovation, Investment, Kharkiv Initiatives" will present new projects in biopharma, logistics and other areas on the 25th of September, 2009. Learn more here.

Switzerland, Sweden, and Finland are innovation leaders according to the 2008 Summary Innovation Index for EU27 countries, while Turkey, Bulgaria, and Latvia lag in innovation. See UNECE Ukraine was not part of this study, however, Anatoli Poruchnik and Irina Brykova (Kyiv National Economic University) published a study in 2006 where they calculated the innovation index[…]
Previous
Next